A Welcome Baby Inn
Certified by Mikihouse Child & Family Research and Marketing Institute Inc. *Mikihouse is Japan's famous baby products related reading company.

This hotel has been certified as a "facility that can be used by families with babies with peace of mind" in terms of its facilities, hardware, and customer service based on the accreditation standards of the Mikihouse Child & Family Research and Marketing Institute Inc.
We are currently the only such certified facility in Tokyo. Please feel free to use our services.
A Condominium Hotel with a Japanese-style Appearance in Tokyo's Nihonbashi District

Conveniently located as a base for sightseeing in Tokyo.
The interior of the building is a Japanese-style accommodation space that makes abundant use of wood, including zelkova, and blends in with the atmosphere of Nihonbashi, a district where iki or an authentic old-world elegance has been preserved.
Please use this hotel as your starting point when traveling in and around Tokyo.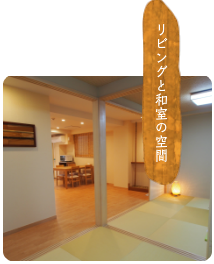 Living room and Japanese-style room space
Each type of guestroom comprises an LDK and a Japanese-style room with suite specifications. In spite of this hotel being in the center of Tokyo, where space is at a premium, even the 2-person type measures about 30 m2, which is a luxurious amount of room. You can also take off your shoes and go barefoot throughout the room and enjoy a comfortable stay as if you were in your own home.
A spacious and relaxing bathroom

All the guestrooms have their own private bathrooms, and they are also equipped with a washing area. In addition, the 4-or-more-person type has a big bathroom with a large oval bathtub that can accommodate 1 adult and 2 children. There is also a bath stool for when you want to take a long soak, and the washroom area is spacious, so you can relax and enjoy yourself even with children.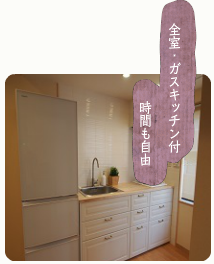 All rooms are equipped with a gas burner-equipped kitchen to help you make free use of your time.
All the guestrooms are equipped with a kitchen with a double-ring gas burner. Cooking utensils and tableware are also provided. There's no need to eat out move to the dining room at a set time, and you can cook your own favorite foods whenever you like. Have a simple evening meal or peel some fruit. You can enjoy a relaxing hotel life as if you were at home.

Notice
• All our staff members are Japanese. They do not speak English, Chinese, Korean or any other language except for Japanese. For this reason, if you have any questions, we prefer you to contact us by e-mail so that we can respond more accurately and appropriately. (If necessary, we can use a translation machine to assist with communication. Phone calls are not accepted.)
• We have prepared manuals in English, Chinese, Korean, and several other languages to explain about the in-room facilities and provide details on how to use them. Numerous guests from various countries have stayed at our hotel and successfully used our service, so please be assured that you can use our services with peace of mind.
•We have also received responses to our questionnaire from past condominium guests! Please take a look at them.
• In addition, free Wi-Fi is available in all rooms.
NEWS (up2023/11/14)

The year-end and New Year period, from December 29 to early January 2023, We have rooms available for couple. We look forward to hearing from you.